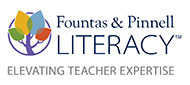 With over 20 years of literacy leadership, Irene Fountas and Gay Su Pinnell have set the standard in the field of literacy instruction and professional development. Fountas & Pinnell revolutionized classroom teaching with their systematic approach to small-group reading instruction in their first book, Guided Reading: Good First Teaching for All Children. Their extensive research and practical work with teachers has resulted in a framework of books, print and digital resources and professional development services created to support students' learning including The Continuum of Literacy Learning, Grades K–8; Literacy Beginnings; the Prompting Guide Part 1 and Part 2; Teaching for Comprehending and Fluency: Thinking, Talking, and Writing About Reading, K–8; When Readers Struggle: Teaching That Works; and the Fountas & Pinnell Leveled Book Website. Their numerous other best-selling resources include Phonics Lessons, Word Study Lessons, and Sing a Song of Poetry, as well as the Reader's Notebooks, the Benchmark Assessment Systems 1 and 2 and the Leveled Literacy Intervention systems K–12. Their most recent work includes Prompting Guide Part 1 and Part 2 iPad eBooks, Fountas & Pinnell Reading Record iPad apps, Genre Study: Teaching with Fiction and Nonfiction Books; Genre Quick Guide, the Genre Prompting Guides; and Leveled Literacy Intervention Gold and Purple systems..
Assessment:
The Fountas & Pinnell Benchmark Assessment Systems are accurate and reliable tools to identify the instructional and independent reading levels of all students and document student progress through one-on-one formative and summative assessments.
Classroom Resources:
Fountas and Pinnell Classroom Resources maximize student learning with systematic lessons, student books and materials, and powerful tools that guide teachers' language and actions and support them in expert decision making for high-impact literacy instruction.
Intervention:
Leveled Literacy Intervention is a short-term, supplementary intervention system proven to improve literacy achievement of struggling readers with engaging leveled books and fast-paced systematically designed lessons.
Professional Books:
Fountas & Pinnell Professional Books are designed to strengthen instructional decision making, empower teachers with the latest in literacy thinking, and help build a community of skillful, informed educators.
Professional Development:
The single most important factor in students' literacy success is skillful, informed teaching. All of Fountas and Pinnell's books, resources, and systems are deeply rooted in teacher professional learning. Student achievement rises dramatically when teachers work in climates of collegiality and continual improvement.
A complete list of Fountas & Pinnell's books and resources can be found at fountasandpinnell.com